Capital Area Animal Welfare Society hand out 1,000 bags of pet food
April 18, 2020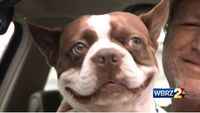 The Capital Area Animal Welfare Society recently received a big donation consisting of thousands of pounds of pet food. 
The food was handed out this morning to local families in an effort to make sure no dogs go hungry amid the coronavirus pandemic. 
"We have never done anything where we give away free pet food, so this is definitely a first for us and we're just so happy we could help," said CAAWS spokesperson Libby Haydel.
The Capital Area Animal Welfare Society received 4,000 pounds of donated food for dogs and cats from founder Holly Reynolds. 
The food was distributed today to families in need. 
"We are doing a pet food distribution we had 4,000 pounds of dog and cat food to the public thanks to a generous donation of 5,000 dollars," said Haydel.
Vehicles lined up this morning ready to receive the donated food. 
"We need everything that we can get so we appreciate the food that we're given, and we're going to be able to feed our dogs a little longer until we're able to get through this struggle," said Margaret Lemieux.
As the COVID-19 pandemic continues to rock the economy causing many to lose their jobs, the shelter says they're just doing what they can to keep up with demand.
"This was really set up for people who have medical conditions and don't want to get out into the grocery stores which we understand, the elderly who can't leave their homes at this time, and a lot of people who lost their jobs and have reduced income right now. We're hoping those are the people that we're serving, and anyone else who needs it."
CAAWS volunteers say a total of 1,000 bags of pet food was given out today to families in need.